Hello friends, welcome to the Day 5 SPOILER and project tutorial with the 12 Days of Stitchmas Spellbinders Advent Calendar. If you missed a tutorial for Day 1 you can find it HERE and Day 3 HERE (I'm not doing tutorials for each of the 12 days).
Day 5 is a beautiful snowflake. There are 2 dies – a stitching snowflake and a shadow piece. The snowflake has multiple pieces allowing you to extend it and alter if you want.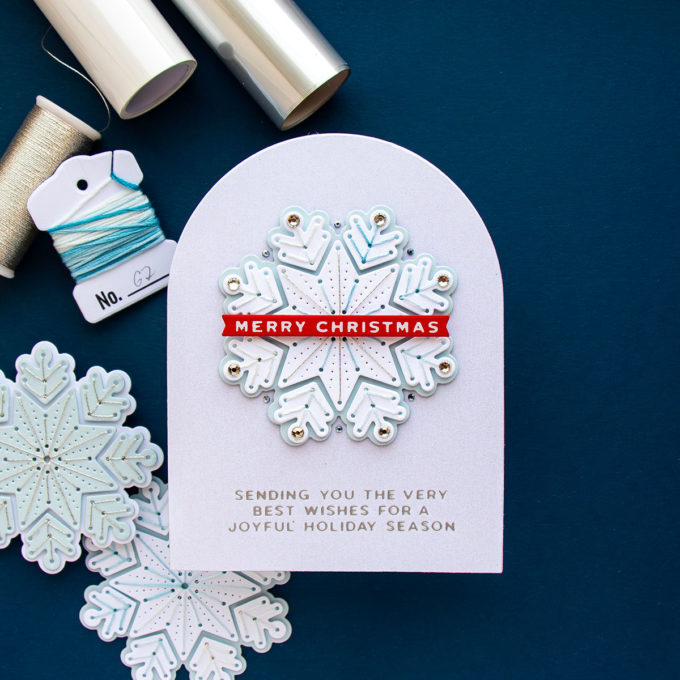 Like this project? Pin it and save it for later | Curious about my project photography? Click for details. 
VIDEO TUTORIAL
Watch the video below or on my YouTube channel.
I once again created an arch-shaped card base (I love this shape) for my card. I foiled a sentiment in Matte Silver foil in the bottom center and added another sentiment foiled in Opaque White on red spanning across the snowflake.
My card was embellished with silver gems – I added several onto the snowflake and onto the card base, too. Watch my video tutorial to see another card idea with this die and to see how this snowflake die can be stretched to make a bigger snowflake for a bigger project.
Have fun crafting!
SUPPLIES
I'm listing the products I used below. Click on the link to go directly to the product. Where available I use compensated affiliate links which means if you make a purchase I receive a small commission at no extra cost to you. Thank you so much for your support!

Spellbinders 12 Days of Stitchmas 2023 Advent Calendar
Shop at:
SSS | SC | SB USA | SB UK

Spellbinders 12 Days of Stitchmas Stitch Along Add-on Kit
Shop at:
SSS | SB USA | SB UK

Spellbinders Essential Arches Etched Dies
Shop at:
SSS | SC | SB USA | SB UK | AMZ

Spellbinders A Merry Little Christmas Sentiments Glimmer Hot Foil Plate & Die Set
Shop at:
SSS | SC | SB USA | SB UK

Spellbinders Glimmer Hot Foil System (Platinum)
Shop at:
SC | SB USA | SB UK

Spellbinders Christmas Magic Hot Foil Plates
Shop at:
SSS | SC | SB USA | SB UK

Spellbinders Quick Trimmer
Shop at:
SSS | SC | SB USA | AMZ

Spellbinders Quick Trimmer Replacement Blades
Shop at:
SSS | SC | SB USA | AMZ

DMC Tapestry Needles Size 22
Shop at:
SB USA

Spellbinders Glimmer Hot Foil – Matte Gold
Shop at:
SSS | SC | SB USA | SB UK | AMZ

Spellbinders Glimmer Hot Foil Roll – Matte Silver
Shop at:
SSS | SC | SB USA

Spellbinders Glimmer Hot Foil 2 Rolls – Opaque Black & White Pack
Shop at:
SSS | SC | SB USA | SB UK

DMC Essential Holiday Diamant Metallic Thread Bundle
Shop at:
SB USA

Spellbinders Glacier Color Essentials Cardstock
Shop at:
SC | SB USA | SB UK

Spellbinders Detail Tweezers
Shop at:
SSS | SC | SB USA | AMZ

Spellbinders Poppy Field Color Essentials Cardstock
Shop at:
SC | SB USA | SB UK

Spellbinders Brushed White Cardstock
Shop at:
SC | SB USA

Spellbinders Platinum 6 Die Cutting Machine
Shop at:
SSS | SC | SB USA | SB UK | AMZ

Spellbinders New & Improved Platinum 6 Machine With Universal Plate System
Shop at:
SSS | SC | SB USA | SB UK

Spellbinders Tool 'n One – White
Shop at:
SSS | SC | SB USA | SB UK | AMZ

Spellbinders Fashion Gold Embellishments
Shop at:
SSS | SC | SB USA

Spellbinders Best Ever Craft Tape 0.25″
Shop at:
SSS | SC | SB USA

Tombow Mono Sand and Rubber Eraser
Shop at:
SSS | AMZ

Spellbinders Silver Mix Color Essential Gems
Shop at:
SSS | SC | SB USA

Spellbinders Best Ever Craft Tape
Shop at:
SSS | SC | SB USA | SB UK | AMZ

Spellbinders 9″ Pro Shears
Shop at:
SSS | SC | SB USA | SB UK

Glassboard Studio True White Glass Craft Mat
Shop at:
GBS

Glassboard Studio Super Strong Magnets
Shop at:
GBS

Jewel Picker Tool
Shop at:
SSS | SC | SB USA | SB UK | AMZ

Bearly Art Mini Precision Craft Glue
Shop at:
SSS | SB USA | AMZ